Work packages
Get an overview of work packages and activities.


---
In order to address the specific objectives of the projects, the activities have been divided into nine different work packages. The activities cover the entire range from research and development to demonstration of the developments.
In the below figure, you can get an overview of the different work packages in the project. Many of the activities will be carried out in parallel by the participants.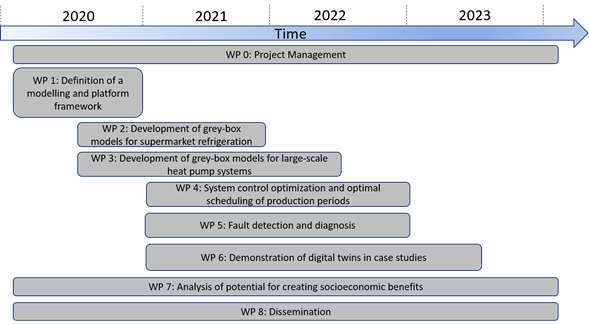 Work Package 0 comprises the project management and the overall organization of the project.
Work package 1 creates a profound basis for the development of digital twins and is thereby the foundation of the following activities.
Work package 2 and 3 are both aiming at developing grey-box models for digital twins. The knowledge basis and, therefore, the methods for developing the grey-box models are different for supermarket refrigeration systems (WP2) and large-scale heat pumps (WP 3), which require that two different approaches are followed. 
Work package 4 and 5 are both focusing on the development of services of digital twins, e.g. system control and optimization, optimal scheduling of production periods (WP 4), and fault identification and diagnosis (WP 5). 
Work package 6 comprises the demonstration of the developments in terms of three case studies:
S

upermarket refrigeration system

Large-scale heat pump system in Aarhus, Denmark

Large-scale heat pump system - yet to be decided

         
The demonstration cases will be involved at an early stage of the project to support the development of the software as well as to ensure a close focus on the demonstrations.
Work package 7 focuses on the potential of digital twins for heat pump and refrigeration systems with respect to creating socioeconomic benefits. The work package has a range of the entire project duration to ensure a consideration of the most relevant services from the beginning of the product development to being able to analyse the economic potentials based on the results from the demonstrations. 
The dissemination of the research activities is included in the respective work packages, while the additional dissemination activities with a focus on non-research stake holders are organized in work package 8.